Capstone Management Consulting (CMC), LLC is an organization that is committed to supporting businesses as a Proposal Advocate under our Management Consulting services umbrella. Understanding that the Federal Government is a key clients for Federal Contracting companies, we teach businesses about the art of planning and managing the activities associated with developing proposals.
Using our streamlined approach to proposal development – the Agile-Based Methodology for Proposal Development (AMPD!), responses to opportunities issued via Requests for Information (RFIs), Requests for Quotes (RFQs), and  Requests for Proposals (RFPs) become less challenging.  Contact us for information about our Proposal Coaching Services and learn how you can Get AMPD! by registering for our upcoming sessions below.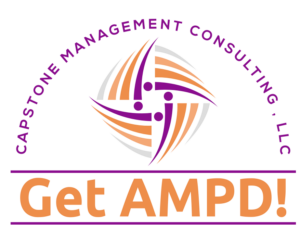 Playbook
During the AMPD! Playbook phase, foundational proposal development activities are conducted.
Drive
The AMPD! Drive Phase consists of four (4) downs.  Primary activities involve "driving" the proposal to finalization.
End Zone
Arrival in the AMPD! End Zone signifies proposal completion. Finalization activities are conducted and the proposal is submitted.